La Tribu de Dana : Puppy school & dog training
To raise your dog well is an essential step, if you want to have the pleasure of taking it everywhere with you. Adopting the right attitudes with your dog from the start thanks to the Ecole du Chiot is a guarantee of future happiness. At La Tribu de Dana, dog training is based on a natural method, with respect for the dog.
Why train your dog?
Simply to have the happiness of living harmoniously with him in all situations. What a pleasure for a master to have his four-legged friend fully integrated into his family and activities, to be able to leave him for a few moments at the door of a bakery and know that he is waiting for you, to take him to a restaurant, or to be able to leave him free during your walks, knowing that he will come back to you when you call him.
And what a greater pleasure it is when your friends invite you over and insist "you're coming with Woof the dog, aren't you? Unfortunately, not all masters are "lucky" enough to experience this type of situation, and complain about behaviour that they do not understand and therefore cannot correct. Your dog, on the other hand, observes you, knows your strengths and weaknesses, and plays with them whenever he wants. This is where dog training comes into its own.
All dogs can be trained, from puppy to adult, from York to Dog, by motivation (Natural Method), or by "leadership training" which allows the master to enter into a better relationship with his dog by appropriate gestures and intonations. Better understood, the commands will be more easily assimilated and executed.
The training sessions given by Dana's Tribe, in private lessons or in groups (for a better socialization), will allow you to develop a relationship of respect and trust with your dog and to overcome behavioural problems.
---

Our Puppy School
Our puppy school ©, exclusively based on the Natural Method (Joseph Ortega) is located on our property, a secure park of 1,500 m² is dedicated to it, and allows us to welcome puppies from 2 months old.
2 age groups are open. From 2 to 6 months and 6 months and over.
Our sessions are divided into 3 parts:
The first part of our sessions is devoted to socialising the puppies with people and other dogs, and/or other species.
Then, fundamental learning (basic orders) are addressed in different and varied ways.
Staging of unusual situations with auditory, olfactory, visual and sensory stimulation to desensitise the puppy to future events that may be stressful.
Puppy School sessions are organised distractions, where the puppy's motivation allows the execution of the exercises requested by the master. The puppy thinks he is playing, but in fact he is working.
---

Our rates and schedules
Our different services
| | |
| --- | --- |
| Puppy school session : | 20 € |
| Package of 10 sessions : | 180 € |
| Individual session : | 30 € |
| Home session : | 30 € + travel expenses |
The centre's opening hours
Group sessions :
Saturdays from 10:00 am to 11:00 am for children 6 months and older
Saturdays from 11:15 am to 12:15 pm for children 2 to 6 months
Individual sessions and farm visits:
contact us
---

They show their confidence
Géraldine B.
---
Excellent breeding, excellent educator ! The dogs are happy, they are loved and as a result they are exceptional and make exceptional puppies .... ! We can only recommend them ! Thank you to Laurent and La Tribu de Dana because we have the best 4 legged companions thanks to them.
Aymeric T.
---
Laurent is a real enthusiast, it shows, the site is exceptional, the dogs are happy and the puppies are born in great conditions!
Adeline C.
---
Love for the animals. .... everything else follows from this! Respect, professionalism, good advice, humanity, good atmosphere, in short..... need to experience it! May Dana's tribe have many children! If every person with a dog goes there. ... well..... it will be heaven !!!!!!! Thank you so much! By the way, it's so good that you want to go just for the fun of it !!!!! It's a pity for me and my doggie that all these kilometres separate us!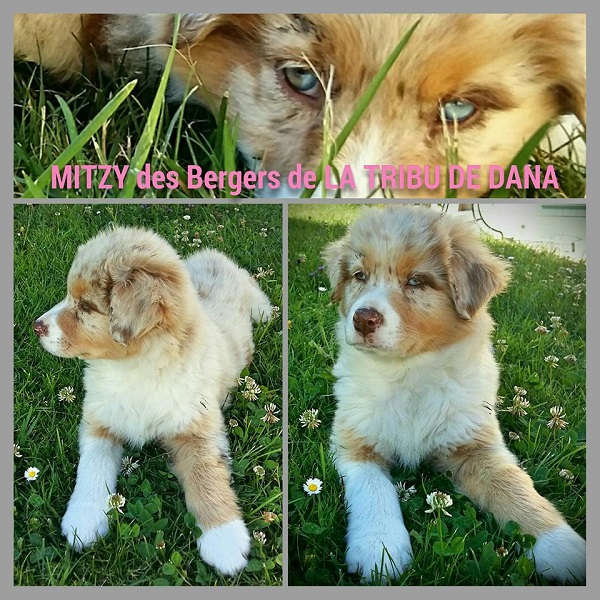 Pascale de Mitzy
---
She showed up on May 10th, the first of 8 Australian Shepherd puppies from Dana's Tribe. MITZY joined the house on July 16th ! Thanks to Laurent Loïzzo and Anne for their advice. Their passion and their good care are fundamental in the good adaptation of the puppies. MITZY integrates easily and shows herself to be both playful and peaceful...and sleeps through the night!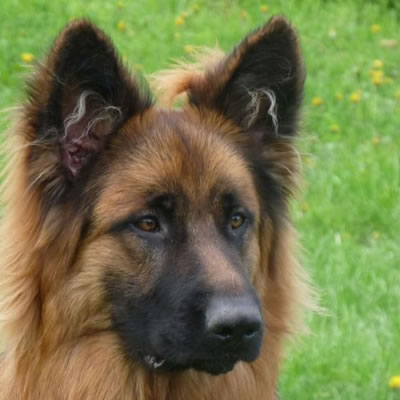 Goliath and his mistress Anne
---
Goliath is finishing his 10 training sessions, he is now an easy-going and complicit dog. This "work" has allowed us to establish a real relationship based on two essential things, Respect and Trust (one not going without the other). If you are lucky enough to know Dana's Tribe, keep these two words in mind, it will surely change your dog's life, but maybe also yours. Thanks to Laurent for what he brings to dogs and their owners.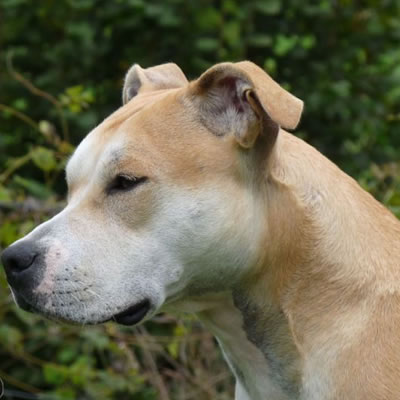 Kaïlé and his mistress Véronique
---
Dana's Tribe..... A must to discover. Laurent (the owner, always calm and understanding with the dogs (but also with the owners...). I always arrived late !!!!...knows how to put the dogs at ease. He is able to probe the animal very quickly, to guess its fears but also its preferences, which makes the work easier. Our four-legged friends work in good conditions, even the laziest or most fearful (like mine). I highly recommend this place and thank Laurent for his beautiful work...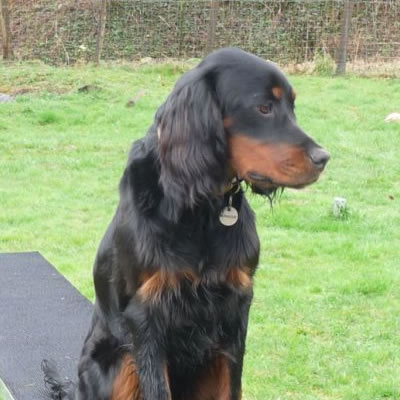 Fée-Line and her mistress Laurence
---
10 lessons later and here we are with a well trained dog. The recall, the walk on the foot, the sit, lie down, don't move, it works! Bravo and thank you Laurent for understanding and rewarding our faithful companion with your caresses and treats.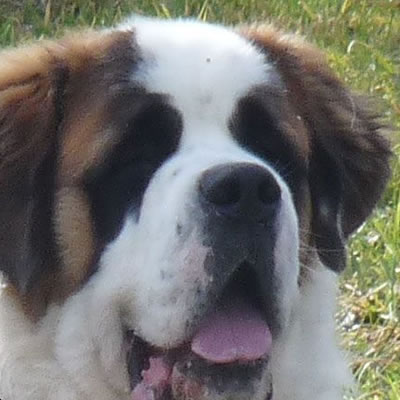 Max and his Mistress Veronique
---
Know-how, patience and competence are the qualities that one finds at Dana's Tribe. Laurent knows how to make even the most clumsy dogs obey... It's an understatement to say that I have a young and big St. Bernard of 60 kg! Thank you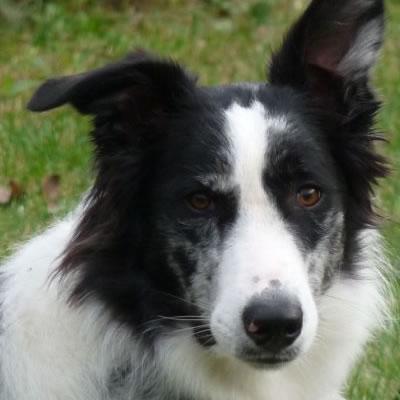 Funny and his mistress Cécile
---
Thank you for all your advice and professionalism. We really appreciated her training sessions which are work for the dog, but always without aggressiveness, it allowed us to understand Funny better and how to react so that she listens to us and obeys us. Since the sessions, she is much more composed and reacts well to orders despite her stubborn character... We continue to apply the advice you gave us and there is constant progress. Thank you and long live Dana's Tribe...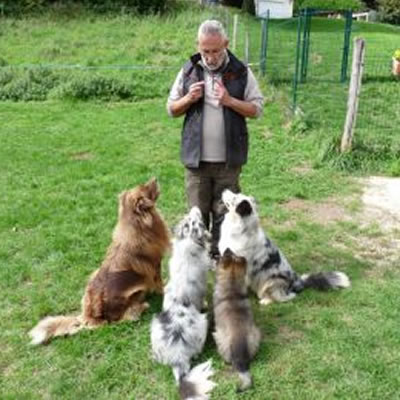 Eden and his mistress Therese
---
My vet's secretary gave me your address. I was looking for someone to train my dog Eden. I especially wanted her to obey when called, not to pull on her leash when walked and also to have tips on how to make her sit, walk and stay still. All this I could never have done without you. I am really satisfied and I invite all the people who don't know how to deal with their dog to take some lessons with Laurent.